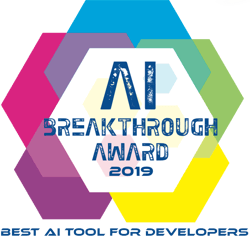 AI Breakthrough Awards 2019
Best AI Tool for Developers Winner
Part of Tech Breakthrough, a leading market intelligence and recognition platform for global technology innovation and leadership, the AI Breakthrough Awards program is devoted to honoring excellence in Artificial Intelligence technologies, services, companies and products.
Gold Stevie Award
Best New Product or Service of the Year in Software Development Solutions
The International Business Awards are one of the world's premier business awards programs, open to all individuals and organizations worldwide - public and private, for-profit and non-profit, large and small. The 2018 IBAs received entries from 74 nations and territories.

CB Insights AI 100: The Artificial Intelligence Startups Redefining Industries
Including as Enterprise Tech in Software Development
Third annual list of 100 of the most promising private companies providing hardware and data infrastructure for AI applications, optimizing machine learning workflows, and applying AI across a variety of major industries.