Meet the team behind mabl
At mabl, we're building the most comprehensive end-to-end cross-browser test automation tool in the industry. We're focusing on using the large amounts of data collected from test runs to power quality intelligence and provide insights to customers to improve the quality of their applications. As a team, we're an eclectic group with diverse experiences and expertise, with many team members involved in professional communities outside the office through blogging, conferences, workshops, meetups, and mentoring.
Interested in joining? Check out our current open positions.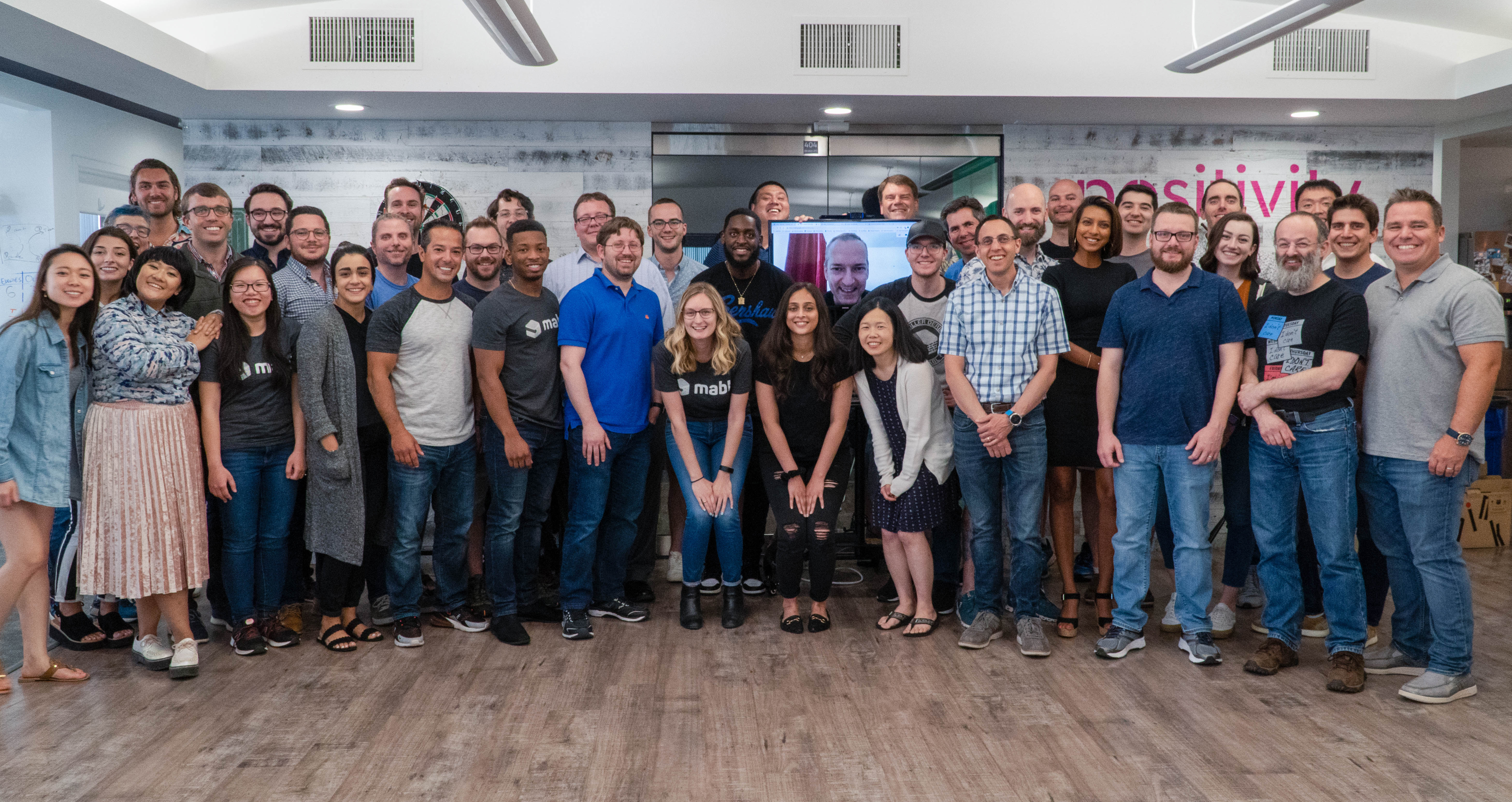 Dan Belcher
co-founder, product guy, ex-Google, Stackdriver co-founder
Izzy Azeri
co-founder, customer & ops focused, ex-Google, Stackdriver co-founder, crossfit junkie
Michael Bartucca
software engineer, ex-Google, Polar Seltzer connoisseur

John Kinnebrew
ML engineer, Vanderbilt Ph.D.
Tamara Yu
software engineer, analog gamer, guardian of pooh and knuffle
Joseph Lust
software engineer, entrepreneur, organizer, runner, curious mind, engineering factotum
James Baldassari
software engineer, real-time systems guru
Ryan Jones
software engineer, ex-Time Inc., full-stack dev
Geoff Cooney
software engineer, ex-Nokia, MIT alumnus
Jonathan Oexner
back-end Java guy, WPI alum, flexitarian
Pooja Samuel
all things people and office, car enthusiast, journal junkie, health & wellness advocate
Andrew Mendelsohn
software engineer, musician, climber, cook, gamer, Tufts alum
Don McNamara
software engineer, climber, favorite uncle, bike crasher
Juliette MacPhail
product management co-op, plant mom, tea enthusiast, certified cookie monster
Matthew Womer
software engineer, W3C team alumnus
Eugene Krylov
software engineer, agility, clean code and architecture advocate, aspiring skiing and travel photographer
Simon Choy
software engineer, Boston University M.S.
Kim Tran
software engineer, foodie, enjoys traveling and cooking, lover of science fiction and fantasy
Libo Zeng
software engineer, Dota 2 player, language learner
Lauren Clayberg
graduate research intern, MIT alumna, self-proclaimed guitar hero
Jeff Zupka
software engineer, twin dad, yogi, coffee fanatic
Cornel Bell
customer support, fashion lover, ex-athlete, ghost writer
Jay Zipursky
ux designer & researcher, making people's lives easier one design at a time
Lindsay Martins
UX researcher, retired hiphop dancer, self-proclaimed chef and aspiring vintage book collector
Corey McCue
UX designer, car enthusiast, Marvel nerd
Reed Porter
accounts guy, cyclist, gamer, digital nomad, ex-Cisco
Anton Hristov
product guy, doer, student of life, ex-Telerik
Narin Nhem
customer support guy, whiskey lurver, non-competitive powerlifter, recovering sneakerhead
Thomas Lavin
product manager, editorial photographer, classic car nerd
Ketan Katyare
customer support, loves watching action and thriller movies, Bollywood retro music, cyclist
Preston Betro
customer success manager, musician, ex-personal trainer, gamer, development seeker, ray of sunshine
Anil Uvaraj
customer success engineer, writing, Traveler, Biker, loves Nature, cars and bike
Rowland Hill
customer success, Beatlemaniac, Star Wars nerd, helping people
Damon Paul
technical solutions engineer, puzzle lover, dancer, singer, traveler, automation enthusiast
Darrel Farris
solutions architect, crafter, piano nerd, bon vivant
Bertold Kolics
software craftsman, modern testing practitioner, zero waste advocate, diversity proponent
Courtney Dragoon
marketer, cat mom, retired actress, karaoke queen
Katie Staveley
serial tech marketer, mom of teenage boys, fancier of things outdoor
Leah Pemberton
marketer, UConn Husky, baker, world traveler-wannabe
Bridget Meyers
sales & marketing operations, 4,000-footer club, dog mom, protocol droid
Jason Childress
enterprise account executive, Cincinnati Bengals diehard, labrador lover, chess master
Brian Brady
enterprise account executive, interested in open source tech, DevOps, and microservices, loves history, guitar, and exploring Boston
Morgan Spartz
enterprise account executive, ITP Atlantan, husband, dog dad, amateur DJ, tragically-high handicap golfer
Max Magnuson
enterprise guy, Stanford alum, long distance runner + cyclist
Sam Jung
test automation specialist, food explorer, San Diegan
Chris Hogan
account executive, golf fiend, Sun Devil fanatic, 3-song karaoke legend
Jordan Van Itallie
sales development representative, Nittany Lion, college football fan, fishing adventurer
Eddie Fisher
enterprise sdr, former chemistry nerd, husband, drone pilot, meme lord, bitcoin guy
Patrick Hanbury
software engineer, ML practitioner, physics nerd, ex-chemical engineer, Irish folk singer