Meet the team behind mabl
As consumers, machine intelligence plays an important role in making routine decisions on our behalf every day, from choosing a route to work, to selecting which music to play, to setting our thermostats, and beyond. As software engineers, we find our time at work consumed by routine tasks that would be more efficiently handled with machine intelligence. That's why we're building mabl to deliver ml-driven functional testing.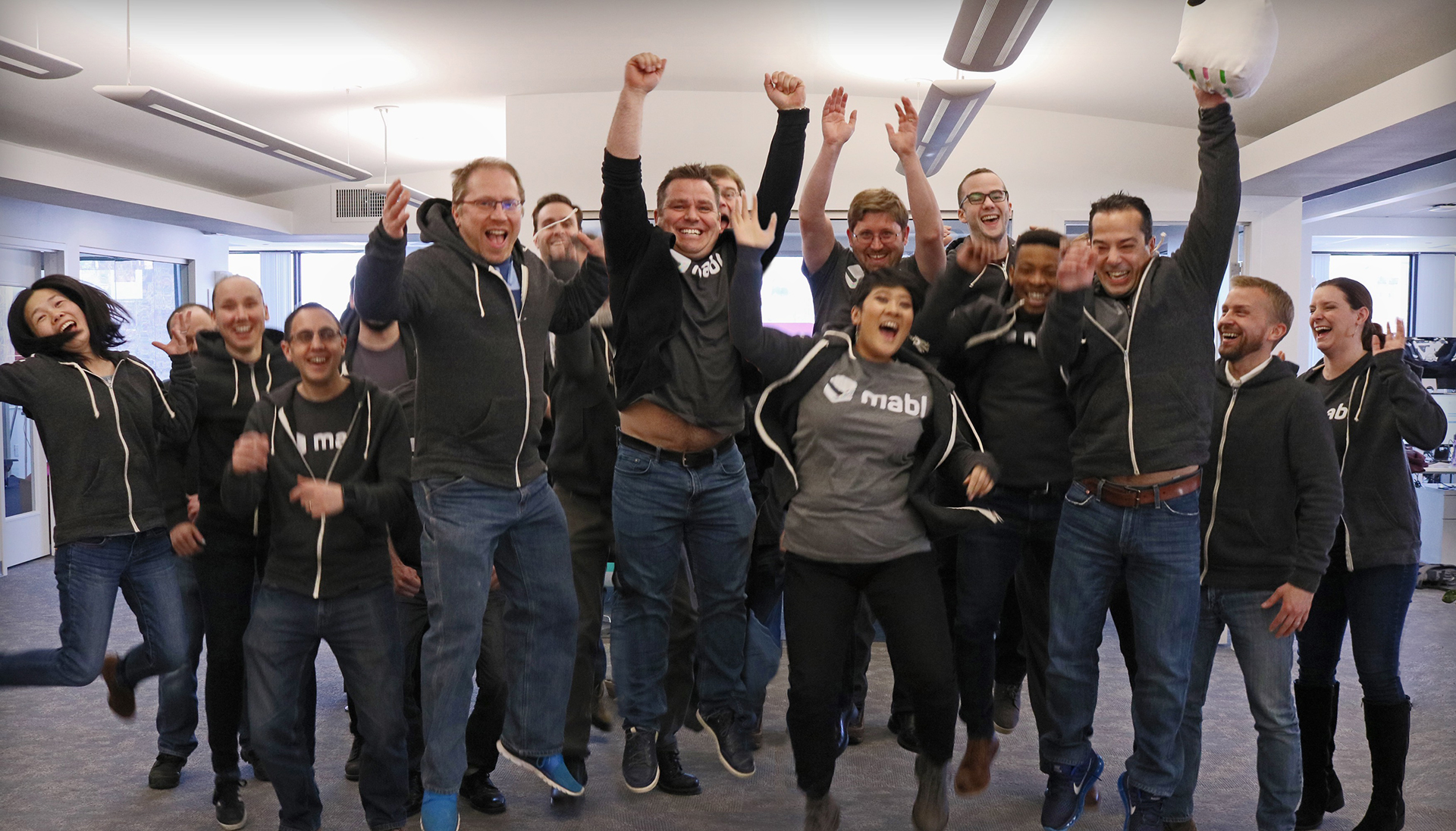 Dan Belcher
co-founder, product guy, ex-Google, Stackdriver co-founder
Izzy Azeri
co-founder, customer guy, ex-Google, Stackdriver co-founder
Michael Bartucca
software engineer, ex-Google
Sergei Makar-Limanov
ML engineer, Stanford Ph.D.
John Barnett
ML engineer, ex-Nokia, MIT alumnus
John Kinnebrew
ML engineer, Vanderbilt Ph.D.
Lisa Crispin
testing advocate, author, donkey whisperer
Stephen Vance
software engineer, ex-Zipcar, Quality Code book author
Tamara Yu
software engineer, MIT alumnus
Joseph Lust
software engineer, full-stack dev, Duke alumnus
James Baldassari
software engineer, real-time systems guru
Geoff Cooney
software engineer, ex-Nokia, MIT alumnus
Ryan Jones
software engineer, ex-Time Inc., full-stack dev
Dani Dewitt
software engineer, front-end ninja
Mike DeCosta
software engineer, integration specialist, hockey player
Jonathan Oexner
back-end Java guy, WPI alum, flexitarian
Shannon Lu
software engineer, Ex Machina fan
Andrew Mendelsohn
software engineer, musician, climber, cook, gamer, Tufts alum
Terry Knowlton
software engineer, homebrewer, Star Wars nerd
Matthew Womer
software engineer, W3C team alumnus
Simon Choy
software engineer, Boston University M.S.
Don McNamara
software engineer, climber, favorite uncle, bike crasher
Jay Zipursky
ux designer, recovering software engineer, Canadian
Matthew Stein
customer success guy, former HubSpotter and Onshaper, mountaineer, musician
Reed Porter
CS dude, cyclist, gamer, digital nomad, ex-Cisco
Anton Hristov
product guy, ex-Telerik, student of life
Narin Nhem
quality and support guy, dad, husband, cook, gamer, powerlifter
Edgar Maldonado
product guy, musician, cook, gamer
Mike Ciulla
marketing lead, dad, experience with dev tools and ML, musician
Darrel Farris
solution architect, polymath, bon vivant
Jake Northfield
customer engineer, NH native, BU alumnus, mixtape perfectionist
Chou Yang
product marketer, tiny house enthusiast, INFJ, world traveler
Eric Tatar
media and marketing specialist, movie fan
Michael Fox
all things sales, Foodie and Wine Connoisseur, ex-Google, ex-Stackdriver
Chris Fevry
test automation specialist, risk taker, adventurer
Preston Betro
test automation specialist, musician, personal trainer, ray of sunshine
Max Magnuson
sales guy, Stanford alum, long distance runner + cyclist
Sam Jung
test automation specialist, food explorer, San Diegan
This Could Be You!