I have a desk in our office, but you would rarely find me there. Pre-COVID, I was usually in our "gaming area", right outside the kitchen. We have such welcoming furniture there; a beautiful butterscotch leather sofa, high-backed suede chairs, and lovely, custom-made high top tables overlooking a bustling street. Every morning, I would grab my laptop, planner, coffee, and settle myself here for the day. This spot was near and dear to my heart because every day mablers had to walk through it to get to the kitchen, which meant I got the opportunity to chat with everyone. This is what I miss the most since our office closed on March 13th due to COVID-19.

Moving to a remote culture from an office culture has been challenging, but I am so proud of our team for their adaptability and resilience when faced with this new way of life. We've had to make predictable changes, such as moving to Zoom meetings, being more intentional about checking in with each other, creating remote work guidelines, but the most important and most intentional changes had to be made around how we continue to facilitate a warm, welcoming, and engaging environment for our new hires and tenured employees.
Shifting to 100% remote onboarding
To ensure our new hires feel welcome and part of the team from day one, even while working from home, we took a look at our onboarding process to see what would translate well from in-person to remote. Thankfully, much of our onboarding program is designed to be completed before the new hire even walks through our doors. All new mablers are introduced to our team via Slack before they begin and on their first day. Hiring managers share LinkedIn profiles so our team can send along welcome wishes before the new hires begin.
To help create an even more connected experience, all new employees complete a scavenger hunt during their first week at mabl. This scavenger hunt is three parts, "company", "team", and "you". Company tasks remain mostly the same for all new employees, but team and you tasks and questions are curated based on maximizing cross-functional connections. We've received rave reviews about the scavenger hunt and its ability to make meeting with other mablers easier and more fun.
In addition to prioritizing our new hires feeling welcomed and connected to the team, it was also important to continue nurturing engagement and connectedness between our more tenured mablers. Since moving to remote work, we have curated virtual experiences for our team such as wine tastings, trivia, escape rooms, and games like Family Feud.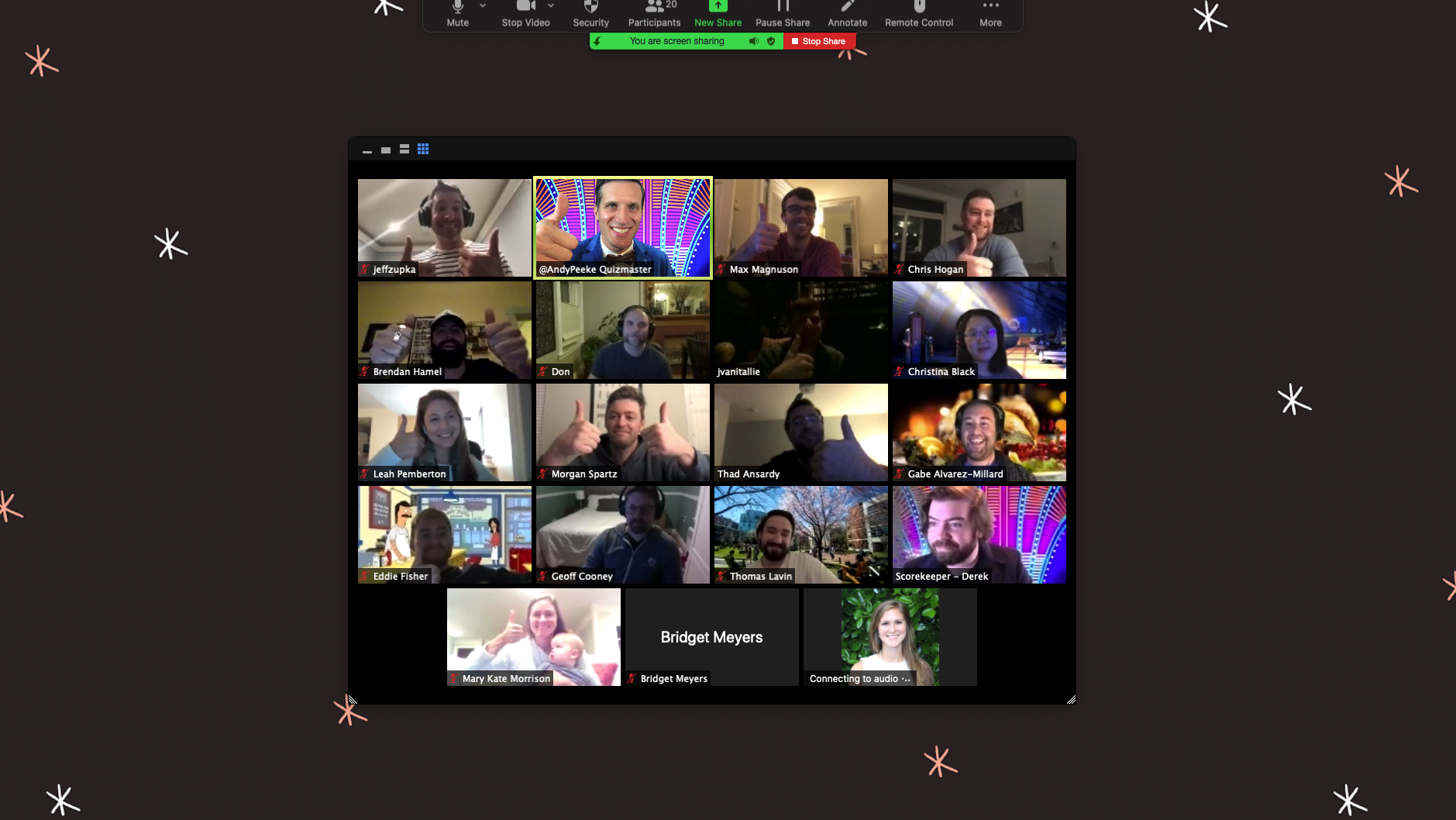 Over the summer, we gave employees the option to meet in-person, outside, where they could socially distance themselves but also enjoy each other's company. Several members of our team participated in a golf outing, hiking, an outdoor happy hour, and a ropes course among the trees. Participation for the outdoor events was cross-functional and thoroughly enjoyed by all who joined in.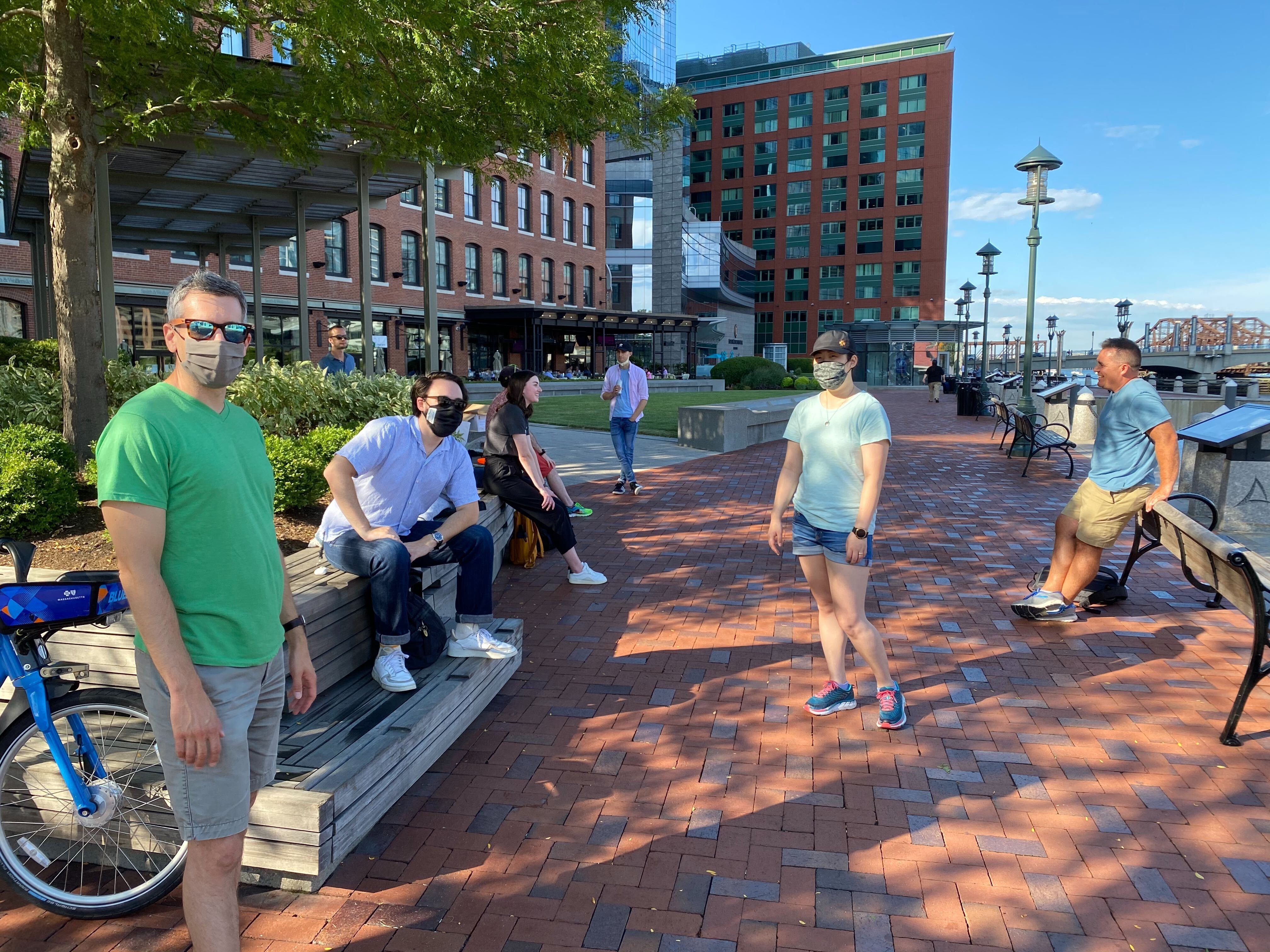 New company-wide engagement initiatives
Engagement is always top of mind, whether in office or not, but we do believe resting and recharging also helps boost engagement as well. To help facilitate rest, we've incorporated company-wide no meeting days to give mablers the opportunity to focus solely on completing tasks or moving a project forward without the distraction of internal meetings. The goal is to reduce stress and free up time for employees to engage in family time, getting outside, or whatever self-care is needed for individuals. We've also added mental health days to our calendar to give the entire team additional full days to recharge.

While moving to remote work was the safest choice for our team, it has not been without its struggles. Our population is a mix of parents, single folks, caretakers, each with a unique situation at home. To help make the transition to working from home easier, we offered all of our employees, including those working abroad, a stipend to create a new home office, or better outfit their current home office.
Optional in-office space
As the pandemic continued into the summer, we began to hear from a small but mighty group of employees who were really struggling to maintain their productivity, and let's be real, their sanity, working from home. Our office is very large, so we decided to open it up in mid-July to a small group of employees. We closed off all communal areas - including the kitchen - we set safety protocols such as mask-wearing and social distancing, and we cut down on our seating capacity to create plenty of space between team members.

Over the last few months, there's been a small cohort of employees that have taken advantage of the available office space as a reprieve from the stresses of working from home. It has created a sense of routine for those who work there and given team members some additional opportunities to safely collaborate in-person, in small groups. Feedback from the broader team has informed our decision to continue to offer a work-from-home option for the majority of employees for the foreseeable future. It's a balance that is currently working for us, but we'll naturally adjust as things change.

This year has taught us a lot about who we are as individuals, as a team, and as a company. We've risen to the challenges, adapted as best we could, and always put the needs of our mablers first; because there is power in togetherness, and that's how we'll ride out the rest of this year. Together.
We'd love to connect with you! Follow us on Instagram to see what the team's up to.