Microsoft Teams is booming. Earlier this year, thanks to sustained demand for remote work and the simultaneous sunsetting of Skype for Business, its monthly active users reached an impressive 250 million. During the company's FY22 Q1 earnings call, Microsoft also revealed that 138 organizations had over 100,000 Teams users at the end of September 2021. As the primary collaboration tool for thousands of businesses worldwide, Teams has become a critical part of the quality engineering ecosystem. Many QA, software engineering, and customer support rely on Teams to discuss test results, resolve bugs, and improve product quality. It was clear that mabl needed to further support these discussions and make quality engineering even easier for organizations using Teams. So last week at mabl Experience, mabl was proud to officially release our Microsoft Teams integration for all users.
Better Collaboration Unlocks DevOps, Quality Engineering
1-in-3 software developers say it takes too long to find contextual information when fixing defects, prolonging the time to resolution and potentially delaying new features or products. Though seemingly straightforward, mabl discovered that collaboration between QA and developers is actually a strong indicator of DevOps maturity in our 2021 State of Testing in DevOps Report, with 61% of fully DevOps teams reporting they're able to resolve bugs within a single business day. In contrast, just 33% of aspiring DevOps teams reported being able to do the same. The simple act of improving collaboration enables software development organizations to deliver new products faster as well as accelerate DevOps and quality engineering adoption.
Make the Triage Process as Automatic as Your mabl Tests
With the new Teams integration, mabl offers a rich integration that can be tailored to your workflow requirements in minutes. Even if your coworkers don't have direct access to mabl, you can configure your workspace to send specific updates to designated channels within Microsoft Teams. These automated alerts can be further fine-tuned to fit the specific needs of your team, including instantaneous alerting for key plans, such smoke or regression test plans, or can be configured only send alerts when there's a change in plan status (i.e. passing to failing, failing to passing). If you're testing user-facing changes in your app, the Teams integration can also help you get visual change, broken link, and autoheal insights in real time. Regardless of the types of alerts you create, mabl will always include a direct link to the failed output so team members can quickly jump into the triaging process.
When the message is received, users can leave comments on individual test outputs to help coordinate triage, any needed changes, or visit the test output to create a Jira ticket if needed. This real-time information exchange within the Teams integration not only cuts response dramatically, but also lays the groundwork for a strong culture of quality. Mabl is dedicated to providing easy-to-use integrations that seamlessly integrate automated testing into existing development workflows for our users. Slack, GitHub, Jira, Azure DevOps, and now, Microsoft Teams integrations have made it easier for mabl users to integrate automated testing into their software development pipeline, adopt DevOps, and transition to quality engineering.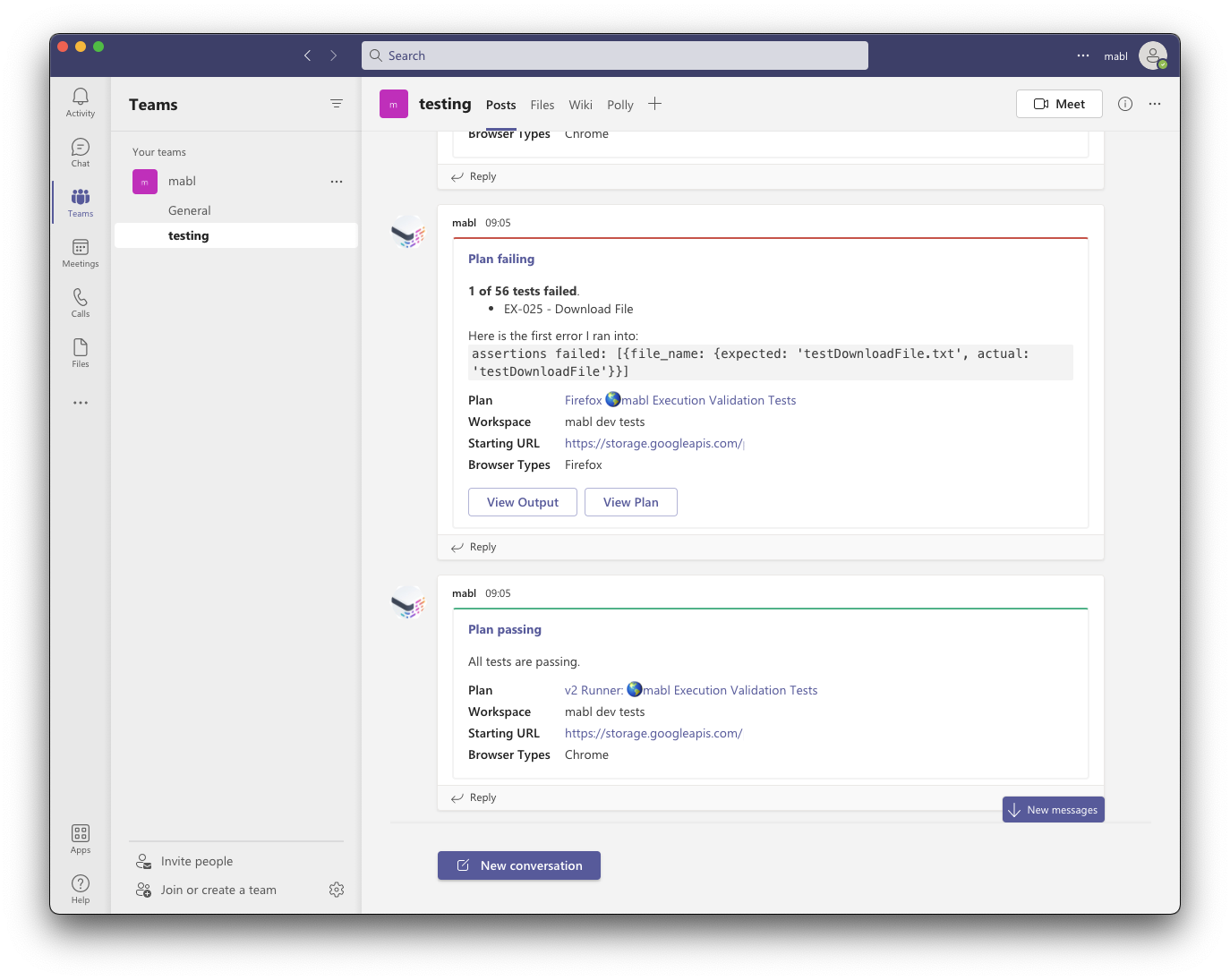 Plan information is sent to the selected Microsoft Teams channel as soon as it happens in mabl
Instant Alerts, Informed Decisions
For software teams working under tight deadlines, seamless communication and effective collaboration are essential. Emailing back and forth to communicate failures or updates can significantly complicate workflows and cause delivery delays. However, by centralizing data access across the SDLC with mabl's Teams integration, you can streamline workflows and ensure that all key stakeholders are kept informed at every stage of product or feature development. With the combined power of mabl's powerful reporting features and the instant communication of Teams, making informed decisions is simple.
Finally, the ability to label these tests with relevant labels allows QE teams to take ownership of the problem and focus on resolving it in real time with cross-functional collaboration rather than hunting for defects across multiple systems. The flexibility to choose specific triggers that control where, when, and to whom these updates are sent, makes Teams one of mabl's more outstanding integrations.
Incorporate Software Testing Everywhere
The software industry is seeing record high levels of innovation, with new products and features being released at breakneck speed. But the most successful development workflows will be defined by their collection of best-of-breed solutions that work together seamlessly as a time and money multiplier. As the easiest low-code, end-to-end testing solution in the industry, mabl continues to integrate with tools that are already part of your SDLC. These integrations make it simple to incorporate mabl's test automation into your development pipeline, allowing developers and QE engineers to test quickly while still delivering high-quality product updates. With a two-week trial, see how easy it is to transition to quality engineering with mabl.