Here in the US, Thanksgiving is tomorrow! And although it may not be a typical year with the same level of celebration with family and friends, we still have a lot to be thankful for.
Thankful for essential workers
Like many of you, the mabl team temporarily closed down our offices and moved to remote work after stay-at-home orders were issued in March. We are fortunate to be in a business that could continue to operate effectively despite not having everyone in the office. It was a big change from what we're used to, but one that our team adapted to very well.
Meanwhile, many of our friends, family members, and neighbors continued to go to work as police officers, doctors, care-takers, grocery clerks, public transport operators among many others. They supported our communities through a very challenging time. And as things improved and more businesses could open - including our office this summer - it was thanks to these folks and many others in supporting roles that made it possible for us to move closer to our normal lifestyle.
In recent news, companies like Pfizer, Moderna, and AstraZeneca have made significant strides in bringing a COVID-19 vaccine to market, bringing us closer to a "new normal" that will allow us to reopen our Boston headquarters once again. We're grateful for the people and organizations behind these developments and the herculean efforts that made them possible. We're hopeful they will continue to make steady progress, and we'll be able to more effectively prevent the spread of this virus as we enter 2021.
Thankful for customers
In late October we hosted our inaugural mabl Experience event, which of course this year was held virtually. It was an amazing opportunity for the mabl community of users to come together and share best practices that are unleashing better quality engineering around the world. We were thrilled to have customers like Riot Games, Sensormatic, NCR, Ritual, Ascendum Solutions, and Colruyt Group share their testing strategies with hundreds of attendees. Their time, energy, and innovation made the event an exciting experience for all.
Throughout the year, our customers have generously shared their time and stories in a few other ways as well. Ritual, a health-meets-technology company, talked about their customer centric approach to QA in a webinar recorded this summer. And our friends from NCR and Arch UK joined us for a panel at the QA Financial Digital Forum to share their perspectives on the impact of COVID-19 on their quality efforts, the notion of shift-left, as well as their priorities for 2021.
We are particularly thankful for our growing list of customers in Japan, which has become one of the most active mabl communities in the world. We had the opportunity to meet many of them face-to-face in February when we traveled there for local meetups and customer meetings. Most recently, one of our Friends of mabl Kinoshita-san, shared his story about why they chose mabl for Sansan.
Thankful for mablers
At mabl we have four core values: drive, insight, support, and authenticity. It's in these challenging times where we see those values shine among our employees, and how we continue to stay focused and engaged. While they're all important, support seems to have the most time in the spotlight recently.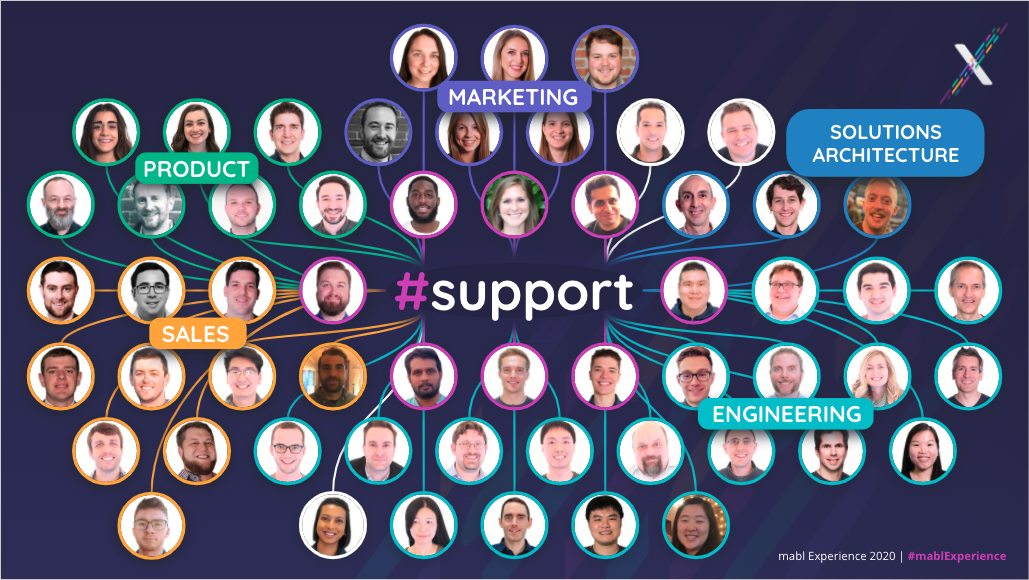 The customer support team has been consistently rated five stars by our customers, helping them solve everyday problems; our employees have supported each other in this new work style sharing tips, spending time together, and sharing responsibilities. Mablers even supported our local community by holding a food drive this month that raised thousands of dollars to help combat food insecurity.

Lastly, we are thankful that mablers have stayed healthy and safe these past months. We wish you and our entire mabl community a safe, healthy, and happy Thanksgiving!