Introduction
This lesson is made to help you understand and utilize Flows in your tests.
Before taking this lesson
Make sure you are comfortable with the following lessons:
mabl App Intro
mabl Trainer Intro
Learning Objectives 🧠
To understand:
What Flows are
How to use them on a basic level
Why they are valuable to your testing
Key Benefits of Flows💰
Easier test management and organization
Increased test scalability
Faster test creation
Common Flow Use Cases 👍
Logging in/Logging out of an application
Filling out a form
E-commerce checkout process
Why is this important?
The DRY Principle
DRY = Don't Repeat Yourself
"...a principle of software development aimed at reducing repetition of software patterns, replacing it with abstractions or using data normalization to avoid redundancy."
In all testing, there is repetition -- performing actions from scratch over and over will lead to increased time, effort, and maintenance in your testing.
Therefore, as testers, we need an efficient way to:
Make repeated actions reusable
Edit them in bulk when app changes occur
Avoid repeating yourself by using Flows!
Quote from: Foote, Steven (2014). Learning to Program. Addison-Wesley Professional. p. 336.
What is it?
A grouping of reusable steps that accomplish a specific action.
What can you do with Flows?
- Import into any other test that needs to accomplish the same action
- Import into the same test multiple times
- Edit all instances of a flow by making changes to a single flow
- Parameterize with data inputs
- Loop through a specified number of times
(Learn more in this lesson on Looping)

Here comes the learning! 🤓
Getting started
3 Basic Flow Functions
Create basic Flows:

Recording new steps
Converting existing steps

Parameterize Flows:

What they are
How to configure them

Reuse Flows:

Import a basic Flow
Import a Parameterized Flow
We will showcase each using a login example…
Create basic Flows
Record new steps
Navigate to more actions
Select Flows dropdown
Select New Flow
Give the Flow a name (Make it clear and specific to the action being performed)
With recording on, begin recording the steps of the Flow


✅ Best Practice: Include Assertion as the last step

When finished move the cursor after the purple 'End Flow' step to continue on with the test
Convert existing steps
Identify an existing group of steps that you would like to create into a flow
Select each using the checkboxes on the left of the step
Click the 'Create Flow' button (far right above the save button).
Give the Flow a name
Rock on 🤘
Parameterized Flows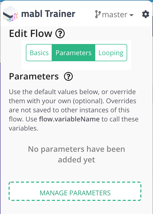 What are they?
A parameter is a variable that exists only inside a Flow, and allows you to control what data is used within that particular Flow.
Here are some facts about Parameters:
Every parameter has a name and a default value, which are synced with the Flow.
A parameter's value can be overridden to change the data that the Flow uses. Overrides are unique, such that multiple instances of the same Flow can all use different values.
Without parameters, a Flow will do the same thing each and every time it is executed.
You can draw in data tables with them (see the Data tables lesson)
How to configure them?
Follow the same steps as the previous "Create basic Flows: Record new steps" *create hyperlink*
Select Parameters
Input variable names and default values
Begin recording Flow, using the corresponding parameters as variables where necessary
You can configure parameters at any time when you click the pencil icon to edit the Flow
Reusing Flows
Importing a basic Flow
Navigate to more actions
Select Flows from the list
Click on Import Flow
Search for the Flow by name, select it, and click Import Flow
If you'd like to make changes, click the left arrow to expand the Flow, otherwise move the cursor after the Flow step, and forge on! 🛠
Import a Parameterized Flow
Follow the steps to import a basic Flow
To override the default values: enter new values into the fields
To maintain the default values: do nothing and click done
Confirm that the correct values are being used by playing the Flow back, and if you're all set, onward! ➡️
Best Practices
Trainer Tips
Expand & collapse by clicking the arrow to the left of 'Start Flow' step
Return steps to normal by clicking the trashcan icon - this will maintain the recorded steps, but remove the Flow
Edit the properties of a Flow (name, parameters/looping configuration) by clicking the pencil icon
Access faster navigation options by clicking 'More Actions' on the right of 'Start Flow' step
Delete Flow AND steps entirely by navigating to 'more actions', then clicking 'remove flow
Web App Tips
Accessing Flows
Go to the Tests tab
Click on the Flows section
From here you can search the list, see what tests they're used in, and remove them if needed.
Managing Flows
Click on the name of a Flow to see summary details
View tests using the Flow
Check out the version history, and roll back to previous versions if needed
Recap
Summary
What Flows are
How to use them on a basic level
Why they are valuable to your testing
What to do from here
Make repetitive actions reusable, saving time with test creation
Edit multiple tests simultaneously, reducing maintenance costs
Control how data is used for different test cases, expanding test coverage with less resources
Feedback
Was this helpful?
Take this 2 minute survey to let us know how we can make mablU better!