Introduction
This lesson is made to help you learn the basics of creating tests with the mabl Trainer.
Learning Objectives 🧠
Know how to properly initialize a test from the mabl app
Understand the layout of the mabl trainer
Feel comfortable performing basic trainer actions and navigation
Familiarize with best practices for test creation
Before starting❗️
Make sure the Desktop App is downloaded
If you are seeing the screen below, make sure you install the mabl Desktop App following the instructions

here

.

Follow along according to your learning style
For hands-on learners: follow along using the Trainer on the mabl Sandbox App!
For visual learners: continue on!
About the Sandbox App:
Sandbox.mabl.com is an application used to practice mabl Trainer concepts
Navigate to Configuration, Application, and then give it a name, add the web application URL, add it to an Environment, and then save.
If your team hasn't added the App already, feel free to do so now!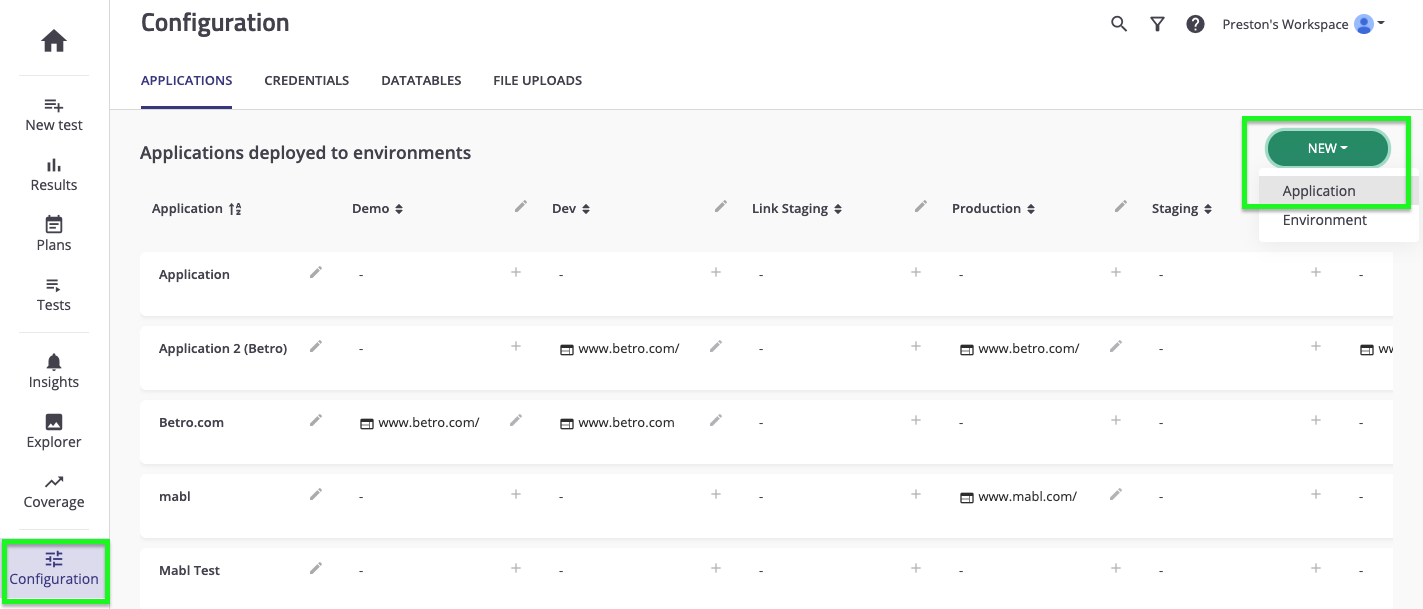 ⚠️ ️ In order to add an application, you must be an 'Editor' role in your workspace - contact your workspace Owner if that is not the case.
Getting Started
Setting up test creation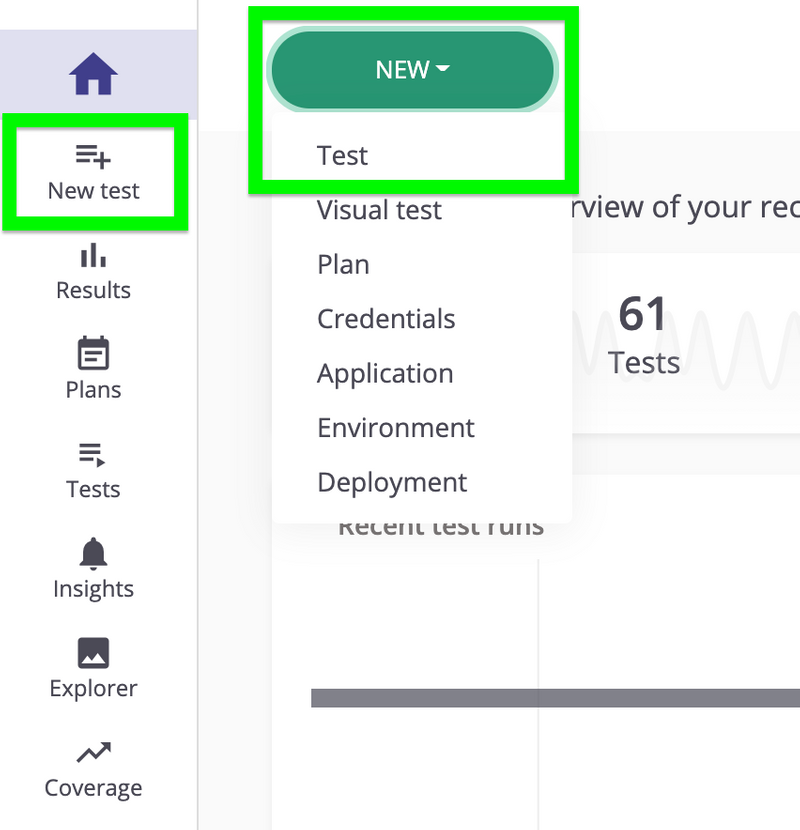 The two fastest ways to begin creating a test:
'New Test' button in the left navigation
New dropdown on the Dashboard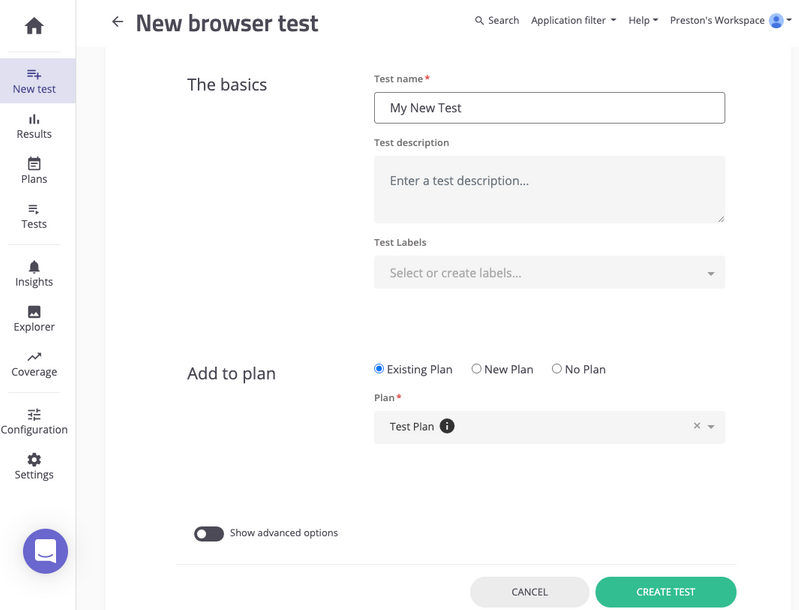 The basics:
Test Name: reflects the functionality you will be testing
Test Description: details the test's purpose
Test Labels: makes it easier to filter and organize tests
Adding to a plan:
Existing Plan: adds test to selected plan automatically after saving a test
New Plan: creates a new plan and adds the test to it after saving a test
No Plan: creates a standalone test that can be added to a plan at any time
Advanced Options: we will touch upon those in a later lesson 🙃
mabl Trainer Introduction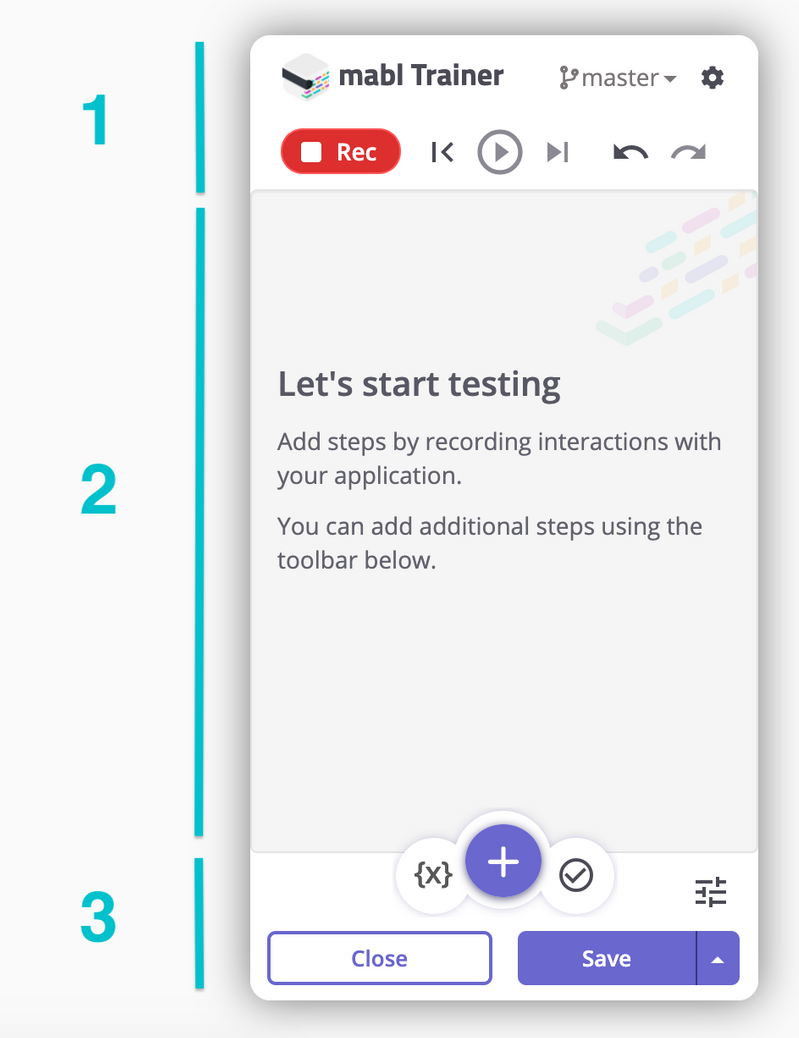 Trainer facts:
Easily records clicks and interactions made by the user
Used for creation and editing of tests
Contains functions that support app validation and automation at scale
Divided into 3 main parts
For now we will focus on the basics so that you feel comfortable creating your first few tests.
In other lessons we dive deeper into more complex functionality and use cases 🤓
Walkthrough Pt. 1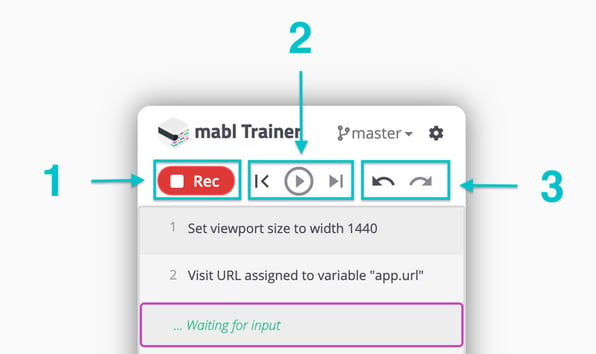 Keep in mind: you can hover over any button in the trainer to see the name of it
Record Interactions - toggle the recording of steps on/off (clicks, enter text, etc.).
Cursor Navigation

Cursor to top - move trainer cursor to the top of the steps.
Play from cursor - play the test from where the current cursor location (click to trigger, and then again to pause).
Step forward - play the step immediately following the cursor

Undo/Redo

Undo - undo the last performed step
Redo - redo the last step that was undone
Walkthrough Pt. 2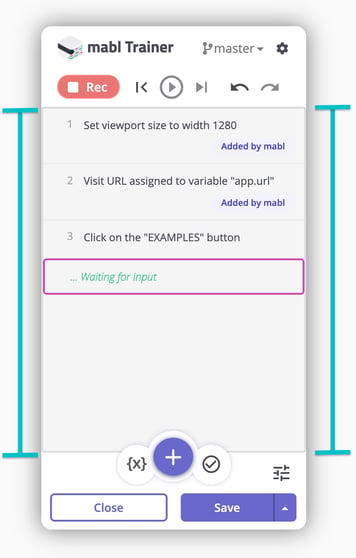 Steps Window: A numbered list of recorded interactions by a user.
Waiting for input cursor signifies where a user's next action will show up.
Rearrange steps, or the cursor, by dragging and dropping them in the desired position.
⚠️ Keep in mind that the first two steps 'Set viewport size to width...' and 'Visit URL assigned to variable "app.url'" are predefined steps that are necessary for proper test execution in the cloud and trainer.
Walkthrough Pt. 3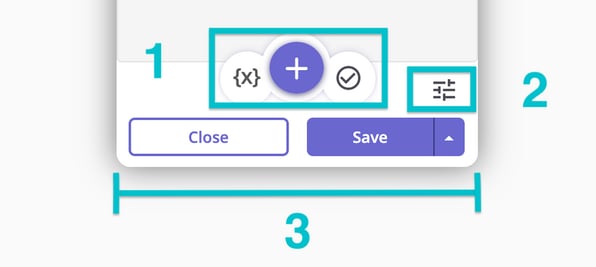 1. Test Actions
(from left to right)
Variables - user-controlled data inputs that make test scenarios more accurate. (separate lesson on this)
Add Step - functions of the trainer that expand the way test scenarios can be created and controlled
Add Assertion: validates the state of the application or an element, and confirms an action recorded in the trainer performs properly
2. Settings
Choose to enable:
Track new windows - mabl will follow you to a newly launched window when recording a test
Record hovers - mabl will automatically record everything (and we mean everything) that your cursor hovers over
Ignore iframes - ignore interactions in iframes (only enable when instructed from customer support)
3. Trainer status
Close - exit from a test training session.
Save - store the progress of test creation up to that point (save early and often!)
Save Arrow - Perform an action after saving when test completion is finished.

3 options:

1. Save the test & close
2. Save the test & create a new one
3. Save & run the test in the cloud
Creating a test
Interact with your application with recording enabled to create your test.
Each click, keystroke, and trainer functions (assertions, variables, etc.) will be recorded as steps, which will be run in the cloud exactly as you made them.
⚠️ Keep in mind application state is very important - record actions in a way that reflects how a user would perform them, and then validate that the result is as expected.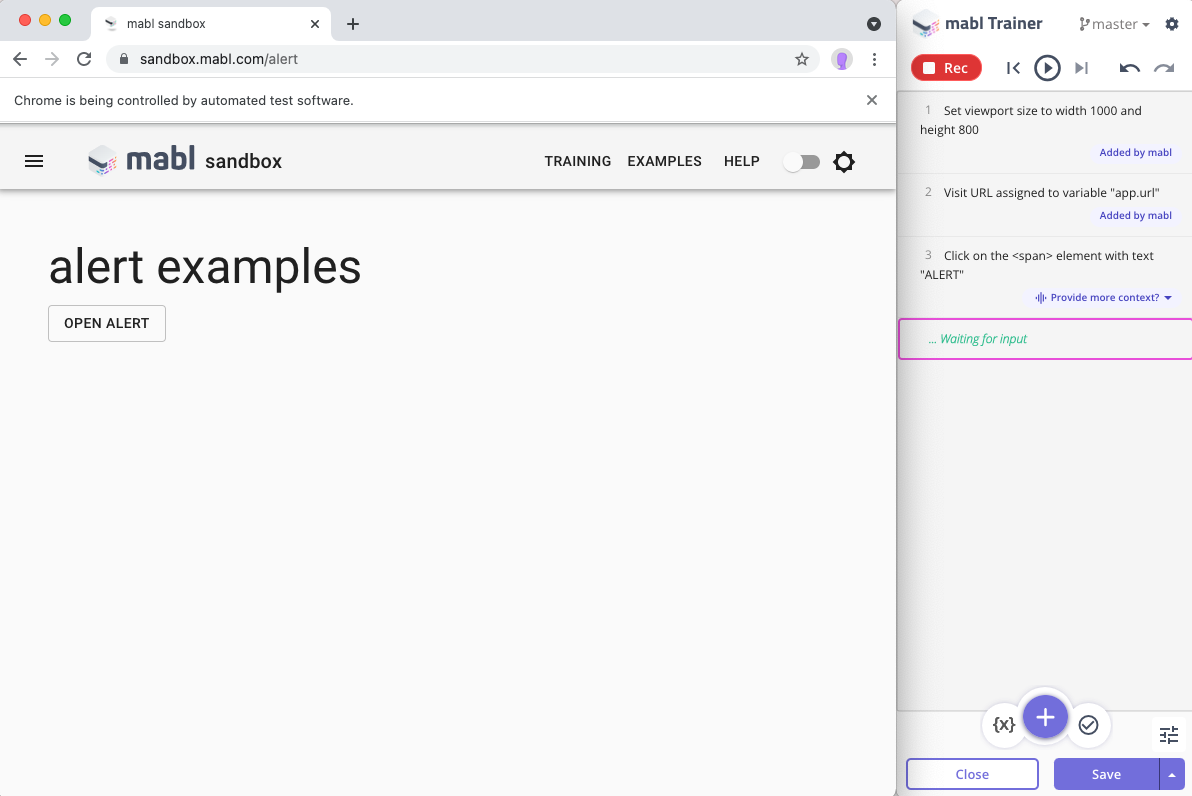 Test Creation Best Practices
Use Assertions - very important for validating the result of recorded interactions
Save early and often - losing work makes everyone sad
Be mindful of when you are recording - stray clicks or key presses may cause false negatives
Ask for help - If you have a question or get stuck, reach out to support@mabl.com, or use the live-chat in the lower left hand corner of the app for help :)
Recap
What we learned
Setting up a new test
The layout of the trainer
Basic functions of test creation
A few best practices to get started
How you can use it
Practice in the mabl Sandbox App (sandbox.mabl.com)
Start creating tests (consulting with team highly recommended)
Reach out to us through the support chat if you have any questions!
Feedback
Was this helpful?
Take this 2 minute survey to let us know how we can make mablU better!