Introduction
Before taking this lesson
Make sure you are comfortable with the following lessons:
Mabl App Intro
Mabl Trainer Intro
Learning Objectives 🧠
By the end of this you will:
Understand how to apply the three basic functions of the mabl trainer to your test cases; Assertions, Variables, and Flows.
Test Case
Details
Use the following test case to practice on your own, and/or follow along with the video:
Validate presence of 'Welcome to the mabl sandbox'!
Log in to application

Navigate to login page by clicking 'simulated login'.
Create credentials via dynamic variables. (Format email as an '@gmail.com', and the password to be 8 characters).
Validate logged-in status.
Make login steps reusable.

Training exercise

Navigate to training tab from left menu, validate correct page.
Click each 'next button' until you get to the third.
Validate presence of 'Assert me!'
Click next, and then finish.
Validate presence of 'Thanks for creating your first trained test!'.

Log out of application

Go back to simulate login page via left navigation menu.
Click 'log out'
Ensure logged out state by validating presence of 'log in'.
Video
Basic Test Case Example:
Highlights
3 Key Highlights:
1. Use assertions purposefully to validate what is supposed to happen after important milestones are passed or actions are performed.
2. Assert against dynamic variables to make sure your assertion matches up with the changing values.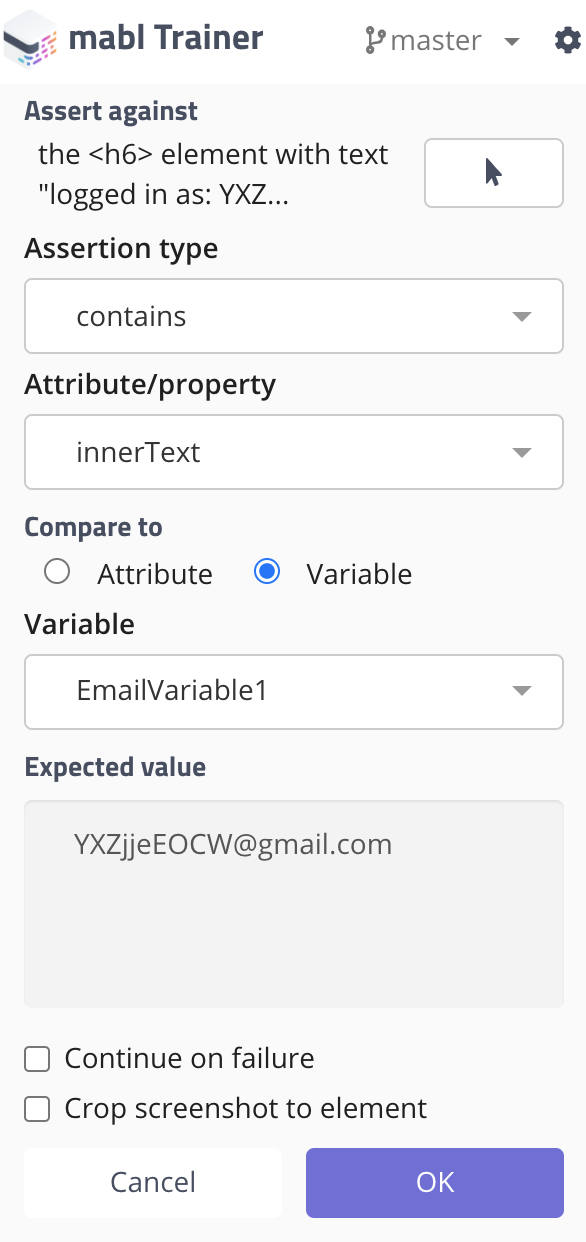 3. Click and drag the start flow or end flow steps to turn other steps into a Flow. This allows you to be more deliberate about what you are creating for Flows.
Recap
Reflect
What did we learn?
How to create a test with the trainer using the three basic functions; Assertions, Variables, and Flows.
Feedback
Was this helpful?
Take this 2 minute survey to let us know how we can make mablU better!