Introduction
Before taking this lesson
Make sure you are comfortable with the following lessons:
Learning Objectives 🧠
By the end of this you will:
Understand how environments and applications are used in mabl
Know how to configure them in mabl
Why is it important?
Configuring applications and environments
...are critical setup steps to allow your team to train and execute tests against various application URLs and environments. They should be configured as part of your initial workspace setup.
What is it?
Application
Applications in mabl are associated with their respective URLs, and can be associated with multiple environments. mabl leverages the URL so that you can create tests and then run them automatically.
For example, at mabl, some of our apps include:
app.mabl.com
sandbox.mabl.com
mabl.com
Environment
Environments in mabl typically line up with the same environments that your team uses in the development process.
E.g. If code typically goes from Dev to Staging to Production, then those three should be included as Environments in mabl as well.
Environments can hold configuration settings, including environment Variables that are accessible for any test within that environment.
How do I use it?
Configuring first application and environment
To configure your first application and/or environment in mabl, navigate to Configuration → Click New.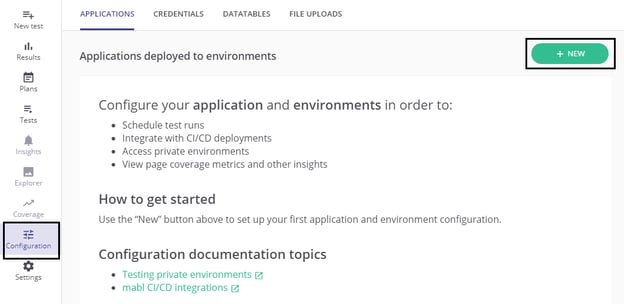 Enter the required fields on the page and click Save.

Application Name
Base URL (you can also input an API URL if applicable)
Environment name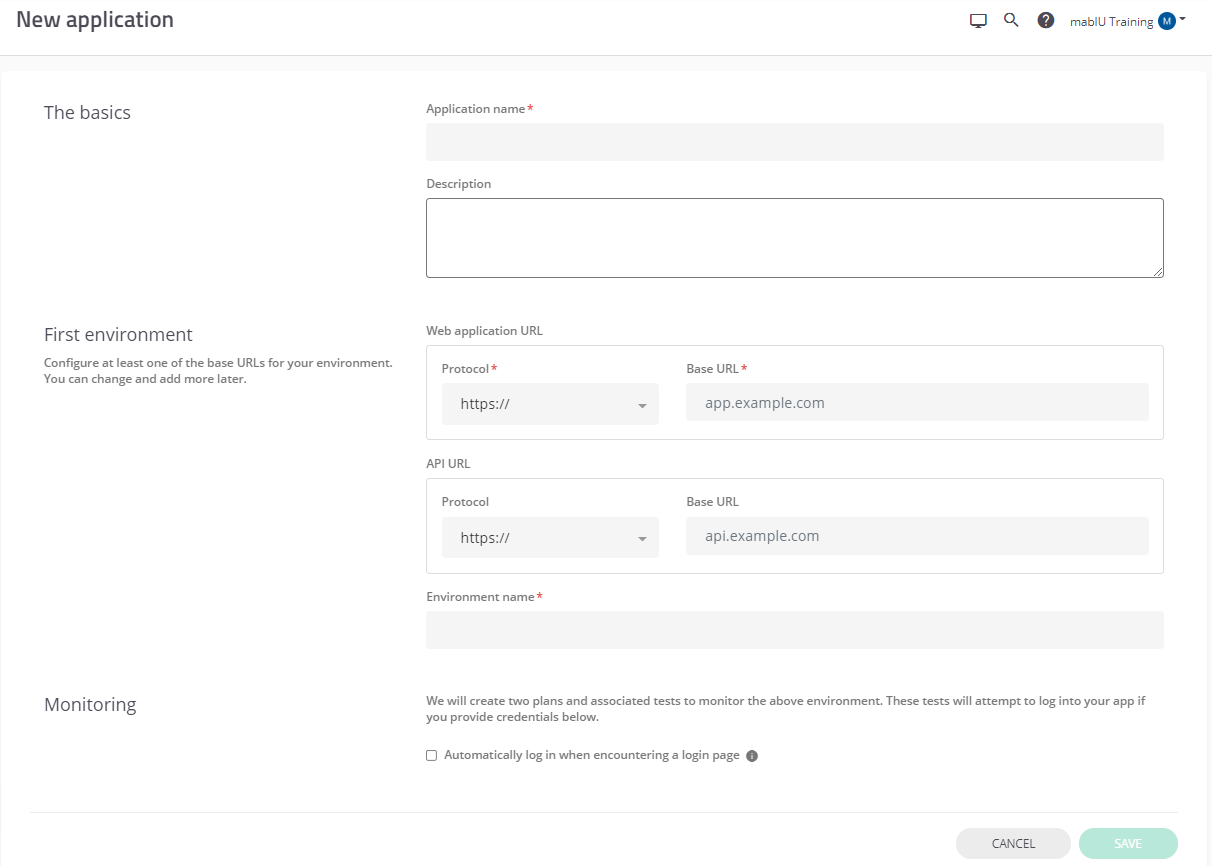 Note: mabl will add 2 system plans with associated tests by default upon adding an application (1. Verify home page load and login, and 2. Check all pages for broken links and errors). These run free of charge and do not count towards your monthly consumption.
Adding apps and environments
You will then see your first application and environment listed. Click New to add a new application or environment.

Note: for an environment, you can establish environment variables to be used within your tests as needed. See the Variables lesson to learn more.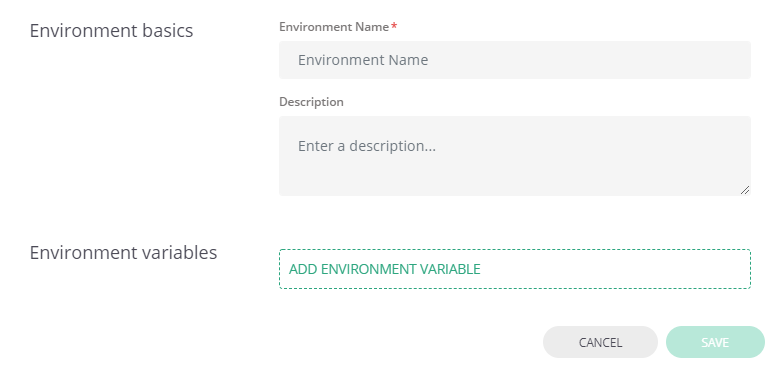 To add the application URLs to a respective environment, click the + sign.

You can associate multiple application URLs with a respective environment.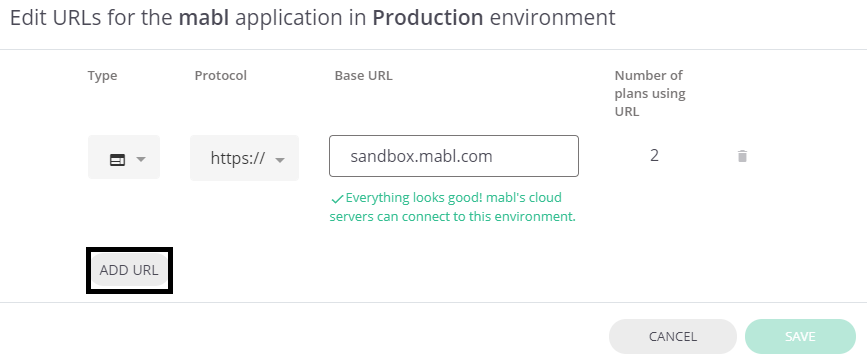 Editing apps and environments
If you need to make any edits to an application or environment, click the Edit icon next to the application or environment name.

Note: If you need to associate a mabl link agent with an environment, you'll need to Edit the environment, check the setting to Use mabl link agent and specify the agent.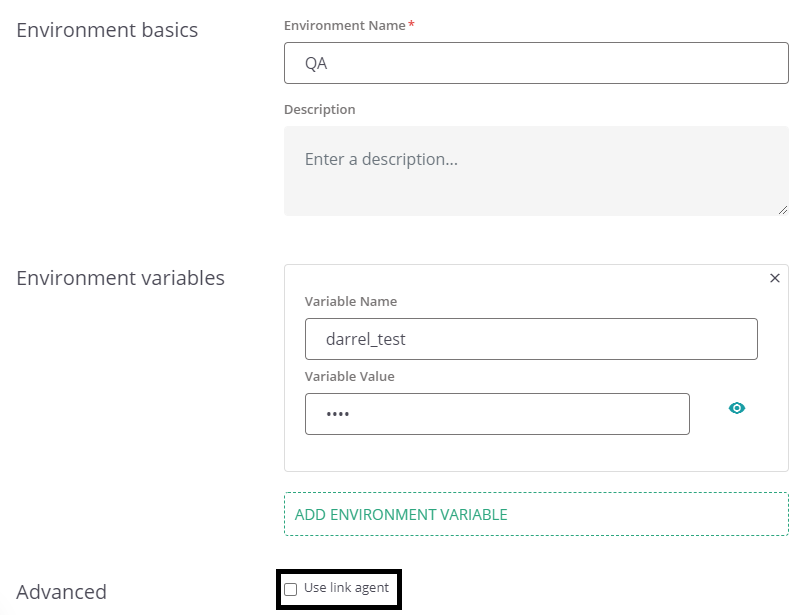 Application filter
Quick Tip: If you configure multiple applications within your workspace, you are able to filter your workspace view by application(s) as needed.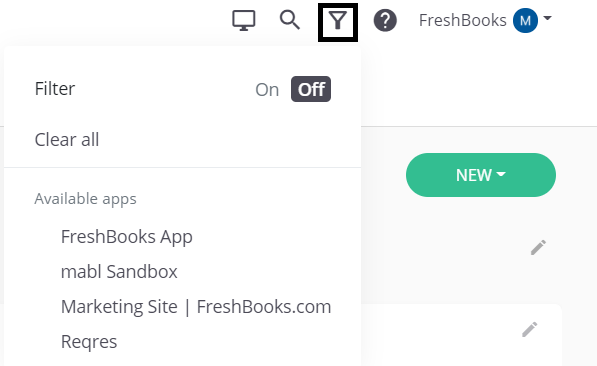 Recap
Reflect
Configuring applications and environments is a necessary part of your mabl workspace setup to allow your team to train and execute tests.
Feedback
Was this helpful?
Take this 2 minute survey to let us know how we can make mablU better!